The weather is changing, kids are back in school, and America's favorite time of year is upon us: Football season! And nothing says football like a great tailgate party. Modern technology has turned small backyard events into massive parking lot takeovers with TVs, satellite hookups, and of course, a portable tailgating grill. Our
Portable Infrared Grills
allows you to create all your favorite grilled foods in a convenient package that's easy to bring to any stadium or park.
Don't settle for boring pre-made sandwiches and chips at your tailgate. Our portable infrared grill uses real infrared ceramic and stainless steel burners with an electronic push-button ignition. Take it out of the box, hook up a propane tank, and you're read to grill! Preheat your tailgate grill on high in as little as 3 minutes, which means your burgers are guaranteed to be ready for kickoff.
Superior Tailgating Grills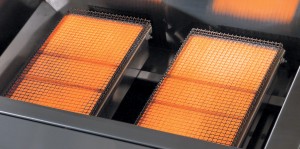 Infrared is far superior to traditional gas, providing more even grilling for better-tasting food. Compared to traditional gas or charcoal tailgate grills, your food will cook 30% faster and will retain up to 35% more of its own natural juices, which produces incredibly tender and juicy results. Infrared grills provide very even heat distribution across the grill, reducing the hot and cold spots often found on traditional gas or charcoal tailgate grills. Cooking your food at a higher temperature on an infrared grill will instantly upgrade any burger or steak. Create restaurant-quality food right out of the back of your truck! When it comes to tailgate grills, this is why Solaire is the best tailgating grill available.
As great as a tailgate can be, having to lug all your supplies can be tiresome. But not with our portable grills! Solaire tailgate grills are compact, durable, and can be easily transported from place to place. This makes it easy to move from the garage, to your car, to your favorite tailgating spot. Bring along your propane tank, and your tailgate grill is ready to go in just minutes. Put the grill on a table, the tailgate of your truck, or on our custom tripod accessory. There's no excuse not to eat your favorite grilled foods while rooting for your team!
The possibilities are endless when it comes to meals that can be made on the Solaire infrared portable grill. Start with the classic cheeseburger and hot dog, especially if you've got kids (or hungry college students) at your party. The built-in warming rack found on the
AllAbout
and
Anywhere with Warming Rack
crisps buns to perfection while the meats cook on the grill. Simple never tasted so good.
The high-quality cooking power of this grill makes it an easy choice for grilling steaks, ribs, vegetables, and more. Try making your favorite recipe on this portable grill – you won't be disappointed.  Surprise your guests with a gourmet menu and you'll have the best tailgate in town. Just be sure you packed some extra food for when word gets out.
If you're ready to turn your tailgate from ordinary to extraordinary, bring along your infrared portable tailgate grill. With great convenience and great power, there's no better way to prepare to delicious food anywhere you go.
Take a Virtual Tour of the Solaire Grills

How To Compare Infrared Grills
Grilling is a time honored tradition in our nation. Whether you use gas or charcoal, firing up that grill is a relaxing, enjoyable way to spend an afternoon or evening. That said, there's a better option on the market today than either gas or charcoal.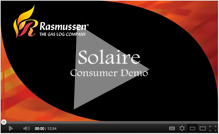 Try Before You Buy
Our Demo Program allows you to try the Solaire Infrared Grill in the comfort of your own home to see if it's right for you.

Featured on FoodNetwork's Unwrapped
Solaire Infrared Grills were featured on the Food Network Show Unwrapped. Order your free DVD of this show for a great insight into the quality construction of Solaire Grills and the benefits of infrared grilling.

Customer Testimonials
Read What Other Solaire Owners Have To Say About Their Grill