Solaire® Infrared Gas Grill Demo Program
[Please note: The Solaire AllAbout Grill has replaced the Accent Grill for the Demo Program]
The three biggest concerns consumers have when buying a new gas grill are:
Will it be worth the significant financial investment I will be making?
Is it designed and constructed to last?
Will it grill any better than my old grill?
We created the Solaire Infrared Gas Grill Demo Program and the Solaire AllAbout Infrared Gas Grill to specifically address these concerns so that you can make an informed decision before purchasing your next gas grill.
We designed the AllAbout to provide all of the construction details, durability and performance of our larger grills in a package that we can ship to you via UPS. This way, you can can experience and experiment with Solaire Infrared in your own backyard without a salesman breathing down your neck.
Our experience is that you will be blown away by the taste and juiciness of the food you grill on a Solaire Infrared gas grill.
How does the program work? It's simple:
The demo rental fee is $47*. This covers the cost of both the outbound and the inbound shipping via UPS; a nominal fee for your grilling use during the demo period; and our cost to clean and prepare the grill for the next demo. (Continental USA only)
You receive a fully functional grill, ready to attach to your 20 lb. BBQ propane tank or natural gas hose (whichever gas you specify). The AllAbout grill is designed to be set on a table or other firm surface.
The demo period is for two full weekends and the week in between. The first weekend is for you to get your bearings, and the second weekend is for you to dazzle your family and friends.
After the second weekend, you will wipe the grease from the grill and repack the grill into the carton. On Tuesday morning, you will set it on your front porch for UPS to pick it up (we will issue a call tag on Monday for a Tuesday pick up).
Upon UPS picking up the grill, we will email you a certificate which will entitle you to a $47* discount on the purchase of any new Solaire infrared gas grill from a participating Solaire dealer within 30 days.
Please contact us if you have any questions about how our demo program works.
* Subject to change.
Take a Virtual Tour of the Solaire Grills

How To Compare Infrared Grills
Grilling is a time honored tradition in our nation. Whether you use gas or charcoal, firing up that grill is a relaxing, enjoyable way to spend an afternoon or evening. That said, there's a better option on the market today than either gas or charcoal.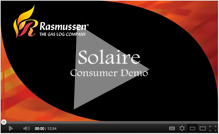 Try Before You Buy
Our Demo Program allows you to try the Solaire Infrared Grill in the comfort of your own home to see if it's right for you.

Featured on FoodNetwork's Unwrapped
Solaire Infrared Grills were featured on the Food Network Show Unwrapped. Order your free DVD of this show for a great insight into the quality construction of Solaire Grills and the benefits of infrared grilling.

Customer Testimonials
Read What Other Solaire Owners Have To Say About Their Grill