Give Something Unique & Interesting
Whether its for the holidays, to celebrate a milestone, or just for fun, corporate gift giving is a great way to give back to both employees and clients. One of the biggest struggles, however, is finding that perfect gift. You want it to show your appreciation, so nothing cheap or low quality will do. It also helps to gift something unique and interesting, that the recipient will actually want to use.
Traditional corporate gifts include fruit and wine baskets or gift certificates. While these can be nice, they are so overdone! Mix it up and give them something really special: a portable grill! These grills are the perfect gift for any VIP, because they can really take it anywhere. Anyone from a sports fan to a foodie to someone who loves taking road trips can enjoy this grill.
There's even a Marine version of the Solaire Anywhere Portable Infrared grill, so they can take the grill out on the boat in the ocean! Great for a day on the water, it is constructed specifically with type 316 stainless steel (versus type 304 stainless steel used in the regular Solaire portables), making it more resistant to corrosion from salt water. Purchase a rail mounting bracket for rail, post, deck and fishing pole holder mounts and you can take this grill sailing, fishing, or water skiing.
The Solaire portable grill offers high quality in a convenient package. Powered by the same infrared burners found in our larger grills, Solaire Portable Grills provide the cooking power of a grill three times as big. With just a push of a button, this grill will start heating and is ready to cook in just three to five minutes. Proudly made in the USA with commercial grade 304 stainless steel, this extremely durable grill will last for years.
Our grills allow anyone to cook restaurant-quality food on the go. From delicious steaks, to elevated burgers, to decadent vegetables, there's nothing that doesn't taste better on a Solaire. And the quick heat time might event cause you to skip the microwave!
The Solaire Portable Grills are a great option for a corporate gift, as it is a high-quality USA-made product that is unique, practical, and extremely useful. This gift is sure to impress and make a lasting impression on your favorite clients or special employees. It offers the same power as the larger portable grills, in an even more convenient package.
Your VIPs will love toting these grills from the beach to the park to the stadium, and will think of you every time they fire it up. Set yourself apart by gifting a Solaire portable grill.
Contact Us for more information on our Corporate Gift Giving Program.
Take a Virtual Tour of the Solaire Grills

How To Compare Infrared Grills
Grilling is a time honored tradition in our nation. Whether you use gas or charcoal, firing up that grill is a relaxing, enjoyable way to spend an afternoon or evening. That said, there's a better option on the market today than either gas or charcoal.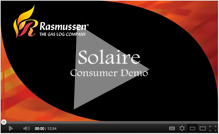 Try Before You Buy
Our Demo Program allows you to try the Solaire Infrared Grill in the comfort of your own home to see if it's right for you.

Featured on FoodNetwork's Unwrapped
Solaire Infrared Grills were featured on the Food Network Show Unwrapped. Order your free DVD of this show for a great insight into the quality construction of Solaire Grills and the benefits of infrared grilling.

Customer Testimonials
Read What Other Solaire Owners Have To Say About Their Grill