Solaire® Infrared Grills—The Secret to Better Grilling is in the Heat
Ever wonder why your backyard grilled food doesn't taste the same as what you get from your favorite restaurant? The secret is high heat. High-end restaurants use intense heat to seal in the juices of the food that they serve to you. Your conventional gas grills simply heat the air inside the grill, resulting in dried-out food.
But Solaire Infrared Grills are unique amongst gas grills. They are designed to optimize the performance of the Solaire Infrared Burner—the "rocket under the hood" of the muscle car of grills.
The Solaire Infrared Burner efficiently uses natural gas or propane to create up to 15,000 tiny flames, which heats up the ceramic plate that, in turn, radiates the intense heat directly to your food. This locks in the juices and flavors, resulting in far more succulent, natural-tasting, and delicious food.
The intense Solaire infrared energy is equivalent to heat emanated from the white-hot charcoal briquettes of traditional charcoal grills. Die-hard charcoal grillers agree that Solaire Infrared is the closest anyone can get in a gas grill to the intensity and taste that they get from their charcoal fire, with the convenience and controllability of gas.
Solaire®— The Muscle Car of Infrared Grills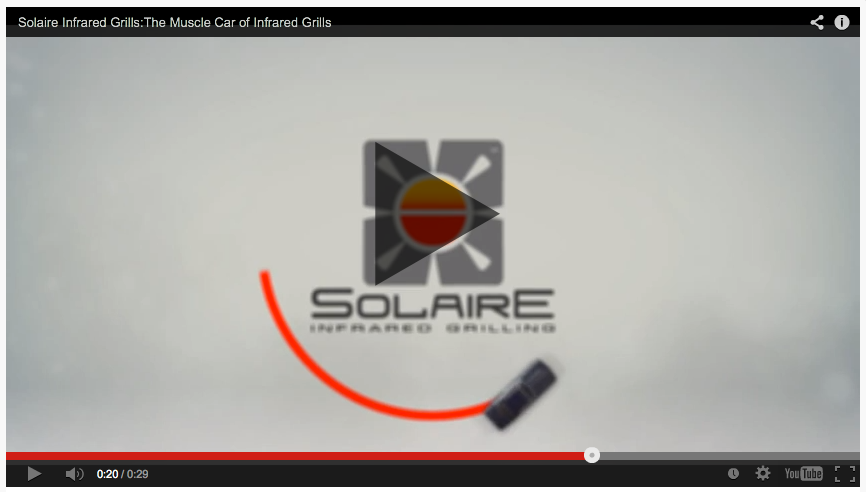 The Solaire Grill is the Last Grill You'll Ever Buy
Solaire infrared grills are the best-designed grills on the market today, built to last and not overburdened with components that are known to fail after a short period of time outdoors (lights, gauges, thermostats, LCD screens, etc.). Failures of these components have proven to be amongst the top service issues and sources of consumer dissatisfaction with their grills. Unfortunately, these components typically fail after the warranty period has expired, leaving you with an expensive fix.
Instead, Solaire focuses on the key qualities of a grill: grilling performance, ease of serviceability, simple but effective design, quality components and materials, outstanding fit and finish, and a burner system that produces foods that rival top restaurants.
Solaire also offers one of the largest selections of infrared grills and accessories. The Mini, Anywhere, and Everywhere portables grills are perfect for tailgating and grilling on the go. The best-selling 27XL is the perfect convergence of price and size. The 36" is the size most often specified by kitchen designers, while our 56" is the largest infrared grill on the market.
In addition, Solaire provides numerous accessories like griddles, smoker boxes, steamers, and fryers to enhance your backyard grilling experience, along with an extensive offering of drawers, bartending centers, refrigerators, and more to complete your outdoor kitchen.
AS SEEN ON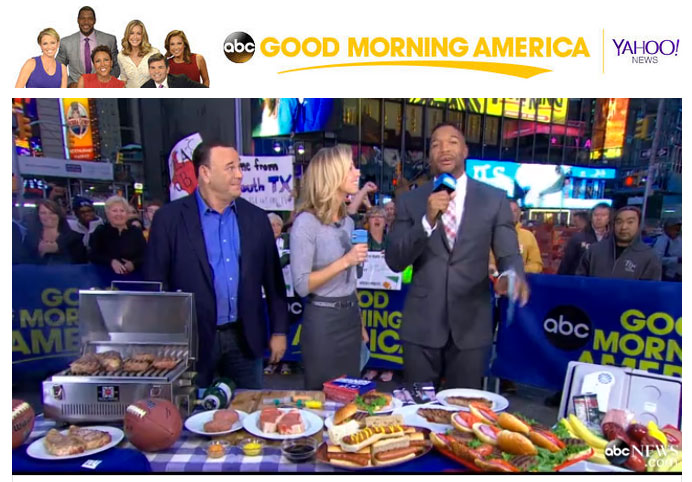 Click on image above to watch video.
Proudly Made in the USA!
All Solaire Infrared Grills are designed, engineered, and manufactured right here in Southern California. Our grills are built to last and come with a Limited Lifetime Warranty.
However, you won't find our grills in the typical big-box retail stores. Solaire Grills are sold only by the finest specialty retailers who recognize true quality, value, and and performance in a long-lasting quality grill. So if you are tired of watching your Big Box grill deteriorate after just a few years, consider choosing a Solaire Infrared Grill.
Whether you are just starting to shop and are wondering:
Or, if you have more specific questions about the Solaire Grills, we would love to hear from you. Give us a call at (562) 696-8718, or send us a message through our Contact Us page. We're happy to help.


How to Compare Infrared Grills

Grilling is a time honored tradition in our nation. Whether you use gas or charcoal, firing up that grill is a relaxing, enjoyable way to spend an afternoon or evening. That said, there's a better option on the market today than either gas or charcoal.
The Evolution Of Grilling

Traditional grill burners produce heat over a relatively small area, and over the long warm-up period, transfer that heat into secondary elements in an attempt to evenly head the grilling area.

Professional chefs know that high heat is needed for superior results. Solaire grills have the proper placement of well-designed infrared burners to deliver such high heat.

Poor Steve! Please learn from his tale of woe: "I finally got a chance to see [the Solaire] on the Food Network tonight… Oh yeah, and thanks for making me sit here and fume because I cheaped out and purchased my cheese ball **** grill instead of popping for the Solaire. Oh well, it seemed like a good idea at the time…
The Problem with Cheaper Grills

A recent blog was very blunt about a grill offered by a major chain. In our estimation, this opinion is the issue with virtually all of the lower-priced stainless steel grills offered by the home centers and major chains.