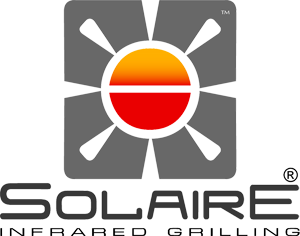 For the serious outdoor griller, investing in a high-quality outdoor gas grill is a must. Any chef will tell you that the tools you use to cook your food will directly affect the end result. The grill is no different. Unfortunately, not all grills are created equal!There are many choices available for gas grills. However, many manufacturers sell sub-standard grills that are manufactured overseas and are poorly made, which actually negatively affects the taste of the food that you are grilling. Grilled food comes out dry, over-cooked, undercooked, unevenly cooked, etc. not for your lack of skill in grilling, but because of the limitations of the grill being used. As a result, grilling loses its appeal, which is a high price to pay for buying a cheap grill.
At Solaire, we do something different. First and foremost, we love to grill! We grill everything from steaks, pork, burgers, chicken, fish, shellfish, vegetables, and fruit. We've even grilled our Thanksgiving turkey on the Solaire, along with baking a pineapple upside down cake.
Our love of grilling insures that we don't skimp on quality—ever.
All of our grills are designed, engineered, and manufactured to strict standards and specifications here in the United States. We manufacture our grills with all-welded firebox construction for sturdiness and long life. In order to greatly increase the life of the burner, we use a unique 'v-groove' grid that reduces the amount of drippings that go onto the burner. Better yet, our v-grove grid actually increases the flavor of your food at the same time!
The infrared burner contained inside of every Solaire grill heats food directly. Since there is no hot air circulating around your food like with traditional grills, the moisture and natural juices stay trapped inside. The result is juicy and succulent meat unlike anything you've tasted at your typical barbecue.
Additionally, our grills are engineered to give you the versatility you demand. You can quickly and easily pop the burners in and out in seconds, so you're not locked into one type of burner or grill system forever. Any optional features you choose are built in separately from the grill, so there's no chance of being stuck with a defective accessory permanently attached to your grill.
If you are serious about grilling, Solaire outdoor gas grills are the perfect choice. But don't take our word for it. Read what others are saying about our grills.
Take A Virtual Video Tour of the Solaire Grill
Portable Grills
View Portable Gas Grills
Cart Models
Built-In Grills