Solaire® Grills
---
Helpful Links
Photos
Videos
Not finding what you need? Please contact us directly.
Take a Virtual Tour of the Solaire Grills

How To Compare Infrared Grills
Grilling is a time honored tradition in our nation. Whether you use gas or charcoal, firing up that grill is a relaxing, enjoyable way to spend an afternoon or evening. That said, there's a better option on the market today than either gas or charcoal.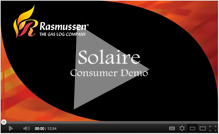 Try Before You Buy
Our Demo Program allows you to try the Solaire Infrared Grill in the comfort of your own home to see if it's right for you.

Featured on FoodNetwork's Unwrapped
Solaire Infrared Grills were featured on the Food Network Show Unwrapped. Order your free DVD of this show for a great insight into the quality construction of Solaire Grills and the benefits of infrared grilling.

Customer Testimonials
Read What Other Solaire Owners Have To Say About Their Grill