The InfraVection® Option – Ultimate Grilling Versatility
InfraVection® is a concept for the griller who wants to experience infrared grilling while keeping the "comfort zone" of a traditional convection burner. It's also great for the sophisticated outdoor chef who wants the widest range of temperature options for the ultimate in grilling versatility. The Solaire® design allows for easy conversion from one burner type to another. All-Infrared Solaire grills are converted to InfraVection® with the purchase and installation of the Convection Conversion Kit, available for 21″ and larger sizes (Anywhere, Everywhere and AllAbout grills are only All-Infrared).
Enjoy all the benefits of infrared plus: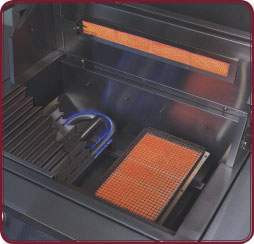 Quality Convection Burner
Efficient stainless steel double-lanced ported U-burner with stainless steel vaporizer plate for thorough heat distribution at all heat settings and exceptional flare-up control.
Widest Range of Temperatures
Infrared and convection burners cover the full range of heat settings to compliment your personal style of grilling.
Easily Convertible
Mix burner types to all infrared, partial infrared or all convection should you come to favor one style over the other.
Take a Virtual Tour of the Solaire Grills

How To Compare Infrared Grills
Grilling is a time honored tradition in our nation. Whether you use gas or charcoal, firing up that grill is a relaxing, enjoyable way to spend an afternoon or evening. That said, there's a better option on the market today than either gas or charcoal.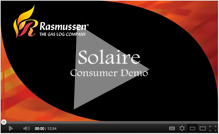 Try Before You Buy
Our Demo Program allows you to try the Solaire Infrared Grill in the comfort of your own home to see if it's right for you.

Featured on FoodNetwork's Unwrapped
Solaire Infrared Grills were featured on the Food Network Show Unwrapped. Order your free DVD of this show for a great insight into the quality construction of Solaire Grills and the benefits of infrared grilling.

Customer Testimonials
Read What Other Solaire Owners Have To Say About Their Grill