The Perfect Portable Grill for Recreational Vehicles
Whether you're a camper, a road tripper, or full time RVer, you know getting a great meal on the road can be tough. With limited kitchen space, and subpar public grills at parks and campgrounds, you might have to rely on fast food more than you like. But what if you had a high-powered grill that provided the same grilled taste of home, anywhere on the road? Our Solaire Infrared portable grills are perfect for RVs, motor homes, and campers to enjoy great-tasting meat–anywhere you go!
We know the priority for campers is to have a grill that is portable, versatile, and with a lot of cooking power. With limited storage, you need a grill that adds flavor to your dishes and burgers, instead of making them taste like dry, burnt hockey pucks. The ability to grill amazing meals from the road helps RVers save money and bring a little taste of home wherever they go.
Our number one recommended grill for recreational vehicles fits all these requirements: the Solaire AllAbout grill. This grill gives you the great flavor of an intensely hot charcoal fire with the control, convenience and consistency of gas. You'll be able to cook steaks to a perfect medium rare, create an enviable smoked salmon, and grill vegetables so good you might consider going vegetarian.  Invite the friends you meet on the road over for dinner – they won't believe your dishes didn't come from a restaurant!
This USA-made table top grill features two infrared burners, which heats up in just three minutes. These hot temperatures help lock in juices for steaks and bratwursts. Enjoy 253 square inches of grilling area that fits twelve 4-inch burgers at once! The grill includes a warming rack integrated in the hood to keep meat, veggies, and buns warm.
This grill is ready out-of-the-box to operate with a 20lb propane tank. This lets you store one tank to use with the grill for miles and miles of trips. No need to get frequent tank fill-ups! We have smaller options as well, such as the Solaire Anywhere & Everywhere models, which only require 1lb propane bottles, if you prefer a more portable method.
The AllAbout Double Burner Grill only weighs about 40 pounds. The AllAbout Single Burner, Anywhere, and Everywhere grills all weigh less than 25 pounds. This makes it easy to move from the garage, to your camper, to the picnic table! Use this grill on one of our tripod stands (sold separately), or just place it on a table or outdoor kitchen area. Just minutes after arriving at your camping spot, you'll be ready for dinner!
Solaire portable infrared grills provide exceptional cooking power that works everywhere you go. Enjoy steaks in Sonoma, burgers in the Badlands, and prime rib by the Pacific Ocean.
Take a Virtual Tour of the Solaire Grills

How To Compare Infrared Grills
Grilling is a time honored tradition in our nation. Whether you use gas or charcoal, firing up that grill is a relaxing, enjoyable way to spend an afternoon or evening. That said, there's a better option on the market today than either gas or charcoal.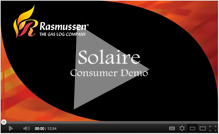 Try Before You Buy
Our Demo Program allows you to try the Solaire Infrared Grill in the comfort of your own home to see if it's right for you.

Featured on FoodNetwork's Unwrapped
Solaire Infrared Grills were featured on the Food Network Show Unwrapped. Order your free DVD of this show for a great insight into the quality construction of Solaire Grills and the benefits of infrared grilling.

Customer Testimonials
Read What Other Solaire Owners Have To Say About Their Grill