Solaire® Anywhere & Everywhere Portable Infrared Grills
There are seven main differences between the Solaire Anywhere and the Everywhere portable grills.
The Anywhere (SOL-IR17B) weighs 20 lbs.: the Everywhere (SOL-EV17A) weighs 15 lbs.
The Anywhere is made from thicker 20 gauge stainless steel; the Everywhere is made from thinner 24 gauge stainless steel.
The Anywhere has a larger appearance that the Everywhere. The Everywhere is about 4 inches shorter in height. The hood protects the burner during transport and storage.
Anywhere = 21″ W x 12″ H x 13″ D
Everywhere = 21″ W x 8″ H x 13″ D
The Anywhere includes the Carrying Bag. For the Everywhere it is not included but can be purchased separately.
The Price. The Everywhere costs about 25% less than the Anywhere.
The Everywhere & Anywhere share many of the same qualities and features:
14,000 BTUs of infrared power
Made from 304 commercial grade stainless steel
14″ x 10″ V-grate grilling surface
Same push button electronic ignition
The same great infrared grilling performance
Use with 1 lb. propane bottles. Use with 20 lb. L.P. tank with Tank/Hose Adapter (SOL-SAHOSE6); Use with natural gas with Natural Gas conversion Kit (SOL-SANGC).
Both use all of the various accessories (including tank adapter, portable stand, natural gas conversion, mount adapter plate, and grid scraper)
Made in the USA by a 100+ year old family business.
Marine version of the Solaire Anywhere Portable Infrared grill (model SOL-IR17M) is perfect for salt-water boating applications
Rasmussen Ironworks / Solaire Grills is committed to providing customers with quality products that suit the specific grilling needs of their users, and our Marine grills are specially made for those fishing and outdoor enthusiasts who need to use cooking equipment while at sea.
The Marine Solaire Anywhere is identical to the standard Anywhere except in the type of stainless steel used. Constructed specifically with type 316 stainless steel (versus type 304 stainless steel used in the regular Solaire portables), the marine grade Solaire Anywhere is more resistant to corrosion from salt water, making it the best material for use on and near the ocean.
Stainless steel is an alloy that contains at least 50% iron and 10% chromium. The chromium inhibits corrosion and thus plays a part in defining stainless steel. The more chromium, the more corrosion-resistance. But chromium is not the only factor in corrosion resistance. Many other elements are added to enhance the properties of a particular grade and type of stainless steel.
Stainless steel alloys are grouped according to the structure of their crystals. Adding nickel creates the structure used in marine applications, called austenitic. Austenitic stainless steels are identified by their 300-series designation. Most of the stainless produced today is type 304, a low-carbon variation which is also called 18-8, because it's made of 18% chromium and 8% nickel. Type 304 has good resistance to corrosion by a great number of chemicals. Consequently, it satisfies a broad demand for adequate performance at an affordable price. But there are a number of marine applications where 304 and other 300-series types are inadequate.
By adding more nickel and 2% molybdenum to 304 stainless, you get type 316, which has the best corrosion resistance among standard stainless steels. It resists pitting and corrosion by most chemicals, and is particularly resistant to salt water corrosion. The Marine version of the Solaire Anywhere Portable Infrared grill (model SOL-IR17M), as well as the rail mounting bracket, are made from type 316 to withstand the rigors of salt water experienced by salt water boaters. All other Solaire Infrared Grills are made of type 304 stainless steel.
Solaire Anywhere Portable Grill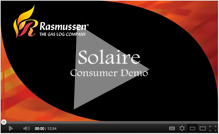 Try Before You Buy
Our Demo Program allows you to try the Solaire Infrared Grill in the comfort of your own home to see if it's right for you.
Take a Virtual Tour of the Solaire Grills

How To Compare Infrared Grills
Grilling is a time honored tradition in our nation. Whether you use gas or charcoal, firing up that grill is a relaxing, enjoyable way to spend an afternoon or evening. That said, there's a better option on the market today than either gas or charcoal.

Featured on FoodNetwork's Unwrapped
Solaire Infrared Grills were featured on the Food Network Show Unwrapped. Order your free DVD of this show for a great insight into the quality construction of Solaire Grills and the benefits of infrared grilling.

Customer Testimonials
Read What Other Solaire Owners Have To Say About Their Grill