Testimonials

THE ULTIMATE GAS GRILL
Read What Other Solaire Owners Have To Say About Their Grill
---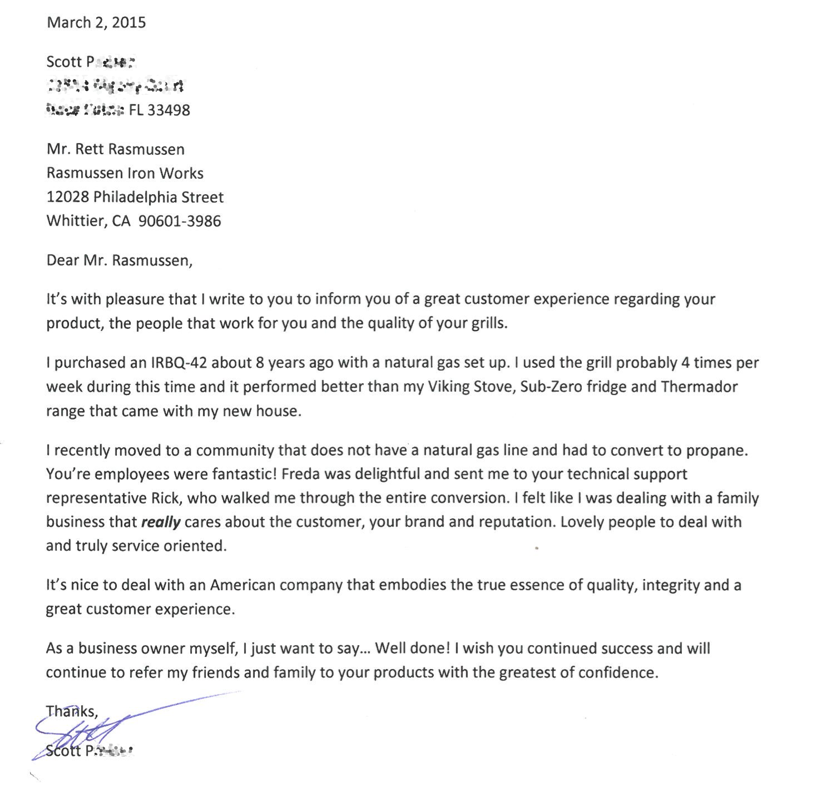 "I received my 27″ basic grill + accessories last night. I just wanted to say that you guys do one heck of job! As a pretty good woodworker with some metal experience, I truly appreciate the quality of work/workmanship your company performs. You should be very pleased with your workers especially in this day and age."
Harry, Denton, TX
"I know to most customers it is all about the product. From what I have researched, you guys have that, no problem. However, I also put weight on the customer support and let me say you are light years ahead of most. I could give you some names of higher priced grill manufacturers that just don't put much into it. No wonder your company has been around so long. You're doing it right, and this comes from a 68 year old retired construction company owner that has been around the block a few times."
Harry, IL
"Finished the install today and leaving for Key West tomorrow morning. Rett, you guys build some nice stuff. Really impressed with the quality and workmanship of the grill and the accessories I got. I will be the first to recommend both you and Jim. As you can see from the pics, I built the grill station in a railing alcove that was useless space. The whole assembly is suspended about 3″ above the deck to allow a hatch to slide closed that is beneath it. Next s a custom made canvas cover. Thanks again for a great product and excellent service."
Captain Jim H.
Palm Beach, Florida
"My wife and I have used your portable since approximately 2003/2004. It is outstanding! However, while the case/hood seem indestructible, I feel it is time to replace the burner/regulator/igniter units. Can I buy these parts to give the old girl a new life? I cannot count the burgers/chops/salmon/steaks/chicken breasts which we have cooked over the years. Well done!!"
Rob & Kerri,
Denver, CO
"This is our second grill (Solaire Everywhere). We love it! This one is for the RV!"
Lauren, Layton, UT
"I fired-up my Anywhere grill for the first time tonight and I was thoroughly impressed by performance, ease of set-up and take-down. What a great little grill! Even on Low, it put beautiful char on the sausages, and clean-up was as easy as any piece of cooking equipment could be. As a consumer, it's a rare treat to buy a product that turns-out to be better than you expected. Thanks!"
Eric R.
"Hello friends..! I had called last week because I was lucky enough to inherit an Anywhere Solaire grill from my grandfather who had never once used the wonderful thing!! I called because I wanted to make sure all of my adjustments were correct and Rich walked me right though it! I have to say ..I used it recently and followed all your instructions to the T and had the best steaks I have ever made on a grill!! I cannot wait to spread the gospel of the Solaire to everyone I know and see how many grill masters we can convert to the SOLAIRE SIDE!!
I cannot thank you enough for your help..It truly made me believe there is a reason to stick with your name and not a knock off at a cheaper price!!
Thanks again so much..I still cannot believe this wonderful grill had NEVER been used..!! Some folks are just too intimidated by something that is new and different..!! (Which was of course my good fortune!)"
Kerry K, Pittsburgh PA
"I am from Canada, and I do not have any Solaire retailers nearby, so while I was in Palm Springs, I took advantage of my location and bought the Solaire Anywhere grill. On the few occasions that I have used this grill back home it has worked beyond my expectations. I was using it in -40F conditions (no joke), and it heated up in under 2 minutes. I was able to cook two 1 1/2″ steaks to medium in under 4 minutes flat. It gave perfect grill marks, and produced the juiciest steaks I can remember.
Andrew, Winnipeg, Manitoba
"I purchased the Solaire 27XL free standing grill about seven years ago. This has been the most incredible cooking device that I have ever owned. It was worth multiples of what I paid for it at the time. I have had family members begging for invitations for BBQ at our house! Your grill is a superb product."
Reed, Boca Raton, FL
"I am  very pleased with my AGBQ-27G Solaire Infrared Grill.
By the way, it is my "just one man's opinion", but I firmly believe that if Tom Hanks had this grill and a few head of cattle…..he would never have left the island.
I've owned almost every "sure-fire" grill, to end all grills….Lynx…Bull…Viking….Wolf….Members Mark..etc… However your unobtrusive, Clark Kent look-alike, really does possess the ability to take a steak, tuna, albacore, salmon, etc….to the level of the professional chef…..and dare I say….beyond. Given the proper seasonings, I would feel quite comfortable in challenging ANYONE, who does not have this fantastic grill, including the below-mentioned Food Channel Superstars.
If this is a steak cook-out…..Emeril…pack your bags…Two Hot Tamales…stick to tacos….Bobby Flay..Just chill….don't grill.
If I were a few years younger, I would gladly take this unit, issue challenges around the planet, and show the world what a truly gourmet steak tastes like."
Terry, Temecula, CA
"The Solaire Anywhere Grill that got to me just before Fathers Day, I must say is heaven in a little silver box!  I cannot honestly remember the last time my wife has clapped after every bite of food that she ate after having steak for the first time on the Anywhere grill.  Well done on this product, we love it!"
Chris, Houston, TX
"I took a few metal shop classes in junior and senior high school, so I know good work when I see it. While I work in the Information Technology business where everything is made by machines, I appreciate anything well-made by a human worker. Thank you for the fine workmanship your company performed on my Solaire Anywhere Portable Infrared Grill (marine-grade stainless steel version). I wish that the rest of America's manufacturing companies would learn from your example: customers are prepared to pay more money for superior craftsmanship. Also, your company proves that a small American business can manufacture the finest products with American labor and materials."
Alexander, Cambridge, MA
"We have your Solaire Anywhere portable infrared grill. Believe me, we do use it anywhere and everywhere on this big island – beach, ocean, volcano areas and woodlands. Hawaii is the perfect place for your product. Just love it!"
Karl & Marsha, Kailua Kona, Hawaii
"I purchased a Solaire Anywhere grill. I live in Anchorage, Alaska, and on several occasions have grilled a steak when it was zero degrees F outside. the steak comes out perfect, even at that temperature. Takes maybe two extra minutes in the cold, but no complaints whatsoever. In the summertime, a marinated salmon filet is done in less than five minutes. Thanks for a great product. Well worth the price."
Greg, Anchorage, AK
"If there was a Hall of Fame for grills I would nominate your Solaire Anywhere portable grill. What a great product. Better than advertised. Restaurant quality cooking at home. I will be retiring my old gas grill that I paid $1400.00 for and the Solaire will be the standard in which all gas grills will be measured against.. In a word…WOW… No make that two WOWS…"
Larry, Boston, MA
"Thank you. We are most impressed with how well we have been able to grill hot dogs and hamburgers at baseball games for the Miami Marlins. Now we're movin up to the Big Time: yellowtail fillets. Your help is very appreciated."
Wolf, Miami, FL
"From my own experience I can tell you that owning a Solaire has taken all the thrill out of eating a steak at a high end steak house. I'm almost always disappointed because I can do it better on my Solaire grill. You truly have built the best gas grill on the planet."
Kevin, Boulder, CO
"I have enjoyed my grill so far, and look forward to experimenting more. Just about every time I cook is an experiment. That is the fun of it."
Frank, Baton Rouge, LA
"This grill is absolutely the best of the best. I have owned five other brands, including W—- and T–. None come even close to the quality and performance of the Solaire."
Ron, Franklin Square, NY
"Takes a little learning but well worth the effort!"
Joe, Columbia, SC
"I also bought the portable version and love it too! Your grills have completely changed my grilling habits. It is no longer something I have to plan ahead for – your grills heat up and cook so fast, it can be a last minute decision! My microwave is getting a long overdue rest!"
Randy, Stone Mountain, GA
"By the way, it's the best grill I've ever used."
Max, St. Louis, MO
"We had the best V—– that money can buy. We were so pleased with the results of the Solaire (for our cabin), that we got rid of our almost-new V—– and bought a second Solaire for our home!"
Sue, Plymouth, MN
"Really terrific grill!!"
Phillip, Opelousas, LA
"Comparison shopping, with a magnet, convinced me that you are the only truthful stainless steel product on the market."
Henry, Arlington Heights, IL
"Amazing grill!!"
Ross, Pacific Palisades, CA
"I don't tell anyone about Solaire – all I have to do is serve a steak, seasoned only with salt and cooked medium rare on my Solaire grill. And that's served with homemade fries cooked in the fryer basket on the burner right next to the steaks. Words do not have to be (and usually aren't) spoken after that. It's a religious experience!"
David, Charleston, SC
"Wonderful! Wonderful! Most sophisticated barbecue I ever owned."
Ian, Victoria, BC, Canada
"We cooked on it the day we got it and our steaks were wonderful and were juicy and fast. Like going out to eat, just as good if not better."
Martrecia, Amarillo, TX
"First steaks … AWESOME!"
Patrick, Lake Forest, IL
"I have only had the opportunity to use the grill twice. It did a great job both times, cooking steaks to perfection. I am upgrading from another model Infrared and already see a vast improvement."
Duane, Durham, NC
"We LOVE this grill (AGBQ-27GXL). It is definitely one of our prize possessions. I cannot believe how good it cooks. Steaks are phenomenal. I purchased one for my Dad and a Solaire Anywhere for my friend as a gift. They both love them too."
Rick, Fort Myers, FL