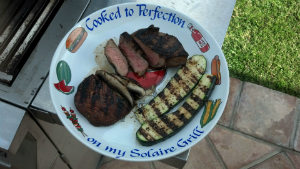 One of the latest food trends is the Paleo diet. The diet relies on lean protein, fruits, and vegetables, while eliminating dairy, grains, and other processed foods. Based on the eating habits of early humans, the Paleo diet can help with weight loss, energy levels, and can even reduce allergies.
The focal point of most Paleo meals is meat – chicken, steak, fish, you name it. And what better way to prepare these dishes than on a grill! Grilling and Paleo really go hand in hand. Humans have cooked with fire for thousands of years, so grilling is a natural choice for making these simple (yet delicious) meals. Plus, it's fast, doesn't require much planning, and is so easy, a caveman could do it- especially with a Solaire Infrared Grill!
Grilling food eliminates the need to add lots of oil when cooking, making it a fat-free technique. You can cook everything from a steak to vegetables on a grill, so your entire meal–from entrée to side dishes–can be ready in just minutes!
Grilling also enhances the natural flavor of ingredients, be it meat, seafood or vegetables. Vegetables and meats retain more vitamins and minerals (riboflavin and thiamine in meat) upon grilling. High heat from a Solaire Infrared Grill keeps moisture in, making meat more tender.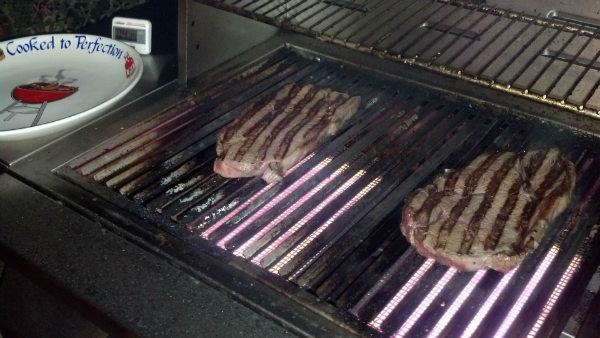 Solaire Grills are Perfect for Paleo Diet Meal Prep
Solaire grills heat up within 3 minutes, and the high-heat of the infrared technology cooks food faster. You'll get delicious results every time when you cook on this grill. Our portable infrared grills weigh less than 20 lbs so they are just right for your grilling on the go. Make an excellent Paleo meal while camping, tailgating, or at a picnic.
Grilling Paleo is simpler than you think! Try it out at a backyard barbecue, or just for weeknight dinner with the family. Maybe try making some grilled chicken with strawberry salsa for an easy meal. Or how about grilling up some marinated lamb kebabs? Pack in the vegetables with grilled rainbow carrots with basil vinaigrette. And for dessert, try grilled pears with cinnamon drizzle? The possibilities are truly endless when it comes to grilling a Paleo meal.
If you're ready to go Paleo, all you need is your favorite protein, some vegetables, and a Solaire Infrared Grill! Just simple seasonings like salt and pepper, mixed with the natural cooking power and flavor enhancement that comes with grilling, and you'll have a restaurant quality meal in minutes. It's easier than ever to create a satisfying, healthy meal that everyone will enjoy.
Take a Virtual Tour of the Solaire Grills

How To Compare Infrared Grills
Grilling is a time honored tradition in our nation. Whether you use gas or charcoal, firing up that grill is a relaxing, enjoyable way to spend an afternoon or evening. That said, there's a better option on the market today than either gas or charcoal.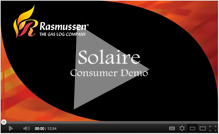 Try Before You Buy
Our Demo Program allows you to try the Solaire Infrared Grill in the comfort of your own home to see if it's right for you.

Featured on FoodNetwork's Unwrapped
Solaire Infrared Grills were featured on the Food Network Show Unwrapped. Order your free DVD of this show for a great insight into the quality construction of Solaire Grills and the benefits of infrared grilling.

Customer Testimonials
Read What Other Solaire Owners Have To Say About Their Grill