Solaire® Anywhere Mini Personal Infrared Grill
The Solaire Anywhere! Mini Personal Infrared Grill. Imagine your lunch break dining on filet mignon while your co-workers eat a baloney sandwich. With the Mini, you can treat yourself to a great meal while the others brown bag it. The Mini is perfect for personal grilling, tailgating, camping, off-roading, picnics, RVs, boating and balconies. If you enjoy succulent and flavorful food, the high heat of the Solaire Infrared Burner locks in the juices at a fraction of the time of conventional grills, leaving you more time to enjoy your outdoor pursuits. 
9,000 BTUs of infrared power. Heats up in only 3 minutes.
Weighs less than 9 lbs.
Made from 24 ga. 304 commercial grade stainless steel
Overall dimensions: 11.5″ W x 8.5″ H x 11.5″ D (including handles)
5 3/8″ x 8 3/16″ V-grate grilling surface (48 sq. in)
Push button electronic ignition.
Use with 1 lb. propane bottles (not included). Use with 20 lb. L.P. tank with Tank/Hose Adapter (SOL-SAHOSE6); Use with natural gas with Natural Gas conversion Kit (SOL-SMNGC); Use with installed RV gas system with Low Pressure Conversion Kit (SOL-SMLPC).
Made in the USA by a 100+ year old family business.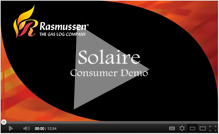 Try Before You Buy
Our Demo Program allows you to try the Solaire Infrared Grill in the comfort of your own home to see if it's right for you.
Take a Virtual Tour of the Solaire Grills

How To Compare Infrared Grills
Grilling is a time honored tradition in our nation. Whether you use gas or charcoal, firing up that grill is a relaxing, enjoyable way to spend an afternoon or evening. That said, there's a better option on the market today than either gas or charcoal.

Featured on FoodNetwork's Unwrapped
Solaire Infrared Grills were featured on the Food Network Show Unwrapped. Order your free DVD of this show for a great insight into the quality construction of Solaire Grills and the benefits of infrared grilling.

Customer Testimonials
Read What Other Solaire Owners Have To Say About Their Grill