Solaire® AllAbout Double Burner Table Top Infrared Grill
The Solaire AllAbout is perfect for tailgaters, picnics, RVs, camping, boating, balconies & backyards – anywhere you want great tasting, juicy grilled food. This USA made table top grill features two Solaire infrared burner, which heats up in just three minutes to searing hot temperatures that lock in the juices. This grill has the exclusive Solaire V-grate, which improves flavor & virtually eliminates flare-ups. It also has a warming rack that is integrated into the hood that provides a "parking" area for meat and veggies and can be used for warming buns.
The only assembly is to attach the handles (6 bolts) & the four adjustable feet; otherwise this fully-welded all-type 304 stainless steel grill is ready to use out of the box. It operates out of the box on a standard 20-pound propane BBQ tank (not included), and can be used on natural gas with the natural gas Conversion kit (item #SOL-AA23NGC). The hood, which protects the burner during transport and storage, has spring-loaded latches. The Solaire AllAbout is a grilling machine that gives you the great flavor of an intensely hot charcoal fire with the control, convenience and consistency of gas.
Become the undisputed Wizard of the campsite, the envy of your parking lot, & the Hero of your family when you serve them juicier, more flavorful food then they've ever tasted from an ordinary grill.
Real infrared ceramic and stainless steel burners (2) with electronic push-button ignition
252 square inches of grilling area (19.75″ w x 12.75″ d) that fits twelve 4-inch burgers on special v-grate that improves flavor and virtually eliminates flare-ups, plus 118 square inches of warming rack area (21.38″ w x 5.5″ d)
Use on a tailgate, table, or tripod accessory (item #SOL-AATRI)
Grill weighs 41 pounds and measures 26.13 wide by 20 deep by 11 inches high with hood down, and 26.13 wide by 22.75 deep by 22.75 inches high with hood up
Use with 20 lb. BBQ Propane Tank (not included).
USA made grills by a 100+ year old family business.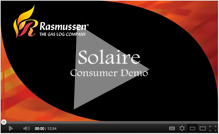 Try Before You Buy
Our Demo Program allows you to try the Solaire Infrared Grill in the comfort of your own home to see if it's right for you.
Take a Virtual Tour of the Solaire Grills

How To Compare Infrared Grills
Grilling is a time honored tradition in our nation. Whether you use gas or charcoal, firing up that grill is a relaxing, enjoyable way to spend an afternoon or evening. That said, there's a better option on the market today than either gas or charcoal.

Featured on FoodNetwork's Unwrapped
Solaire Infrared Grills were featured on the Food Network Show Unwrapped. Order your free DVD of this show for a great insight into the quality construction of Solaire Grills and the benefits of infrared grilling.

Customer Testimonials
Read What Other Solaire Owners Have To Say About Their Grill