[custom_frame_right]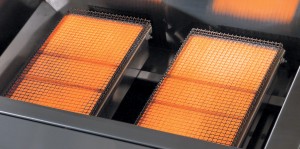 [/custom_frame_right]
Professional chefs know that high heat is needed for superior results. Solaire grills have the proper placement of well-designed infrared burners to deliver such high heat. Make your backyard your favorite restaurant with a Solaire infrared grill.
More Flavorful Food
Intense direct heat enhances natural flavor for succulence and taste that rivals the finest steak houses.
More Efficient
Solaire infrared burners are ready to grill in just 3 minutes and cook twice as fast as traditional burners.
More Convenient
With shorter grilling times, grilling can become part of your everyday lifestyle, not just a weekend event. And since infrared heats food directly, not the air around it, grilling year round, even in frigid weather, is not problem.
Fewer Flare-Ups
Because there is no secondary heat element to trap grease, flare ups are virtually eliminated. Drippings instantly vaporize, adding a great natural flavor to your food.
Versatile
Grill anything like a pro. From steaks, pork, burgers and chicken to fish, shellfish, vegetables and fruit.
Charcoal-like Grilling With No Hassle
Get the great flavor of an intensely hot charcoal fire with the control, convenience and consistency of gas. Hard-core charcoalers say that Solaire infrared delivers the closest taste to charcoal of any gas grill.