Portable Gas Grills: The Ultimate Gadget for a Memorable Outdoor Event
The summer season means a lot of things to different people. Some would prefer to use this period to just relax and spend more time with family, while others would rather hit the road (or the sea) in search of exciting activities. Then there are some who want to use the time to learn a new skill. Either way, or for whatever reason, if outdoor cooking isn't on your to-do list for this summer, you're definitely not spending it right.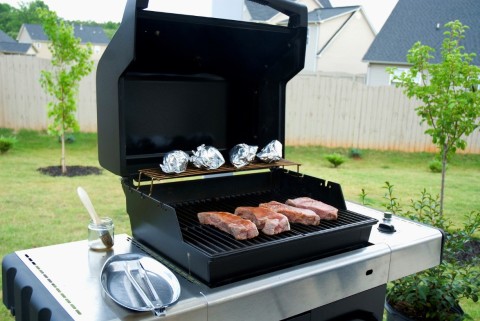 For those in pursuit of happiness, from taking long road trips to outdoor events with friends or family, be sure to include a portable gas grill in your inventory for a truly remarkable cooking experience. Whether you're going to some remote cabin in the woods or planning to attend that beach party your buddies have been talking about for so long, a portable grill is a must-have accessory.
Sure, you can always stuff your trunk with ready-to-eat food packs, but come on… it's summer, where's the fun in that? This is especially true if you're planning to spend a couple of days outside; do you really see you and your family or friends opening pack after pack of food rations for the entire duration of the road trip? How long do you think it will take before you get tired of that?
Truly, nothing compares to cooking while you savor the rich aroma of food combined with the outdoor fresh air. It just gives you a refreshing feeling that is best experienced rather than described.
While there may be other means to cook your food outside, like firewood or coals, if you don't know how to use them properly, they may be awfully problematic. Portable gas grills, on the other hand, are not only convenient, but they also pack quite a punch. They usually feature non-stick grill surfaces, which make them a lot easier to clean. Also, they are lightweight, so you can place them pretty much anywhere.
For those looking to acquire a new skill this summer, how about using a portable grill to pick up a few lessons in outdoor cooking? Grill up a few burger patties or hotdogs marinated in your secret sauce and surprise your family with your newfound culinary skills. Combine those with a couple of well-chilled drinks, lots of laughter, a few bonding activities, and you got yourself a truly memorable outdoor event.
Getting a portable grill shouldn't be an arduous activity. Simply get in touch with reputable manufacturers and dealers, like Rasmussen Gas Logs & Grills, to get yourself this extremely handy and useful device. It comes with a couple of accessories to ensure a truly inspired grill experience.
Source:
Gas grill buying guide. Consumer reports
Portable Gas Grill question Barbecue Bible
Gas Grill Cost. Cost Helper Home & Garden
Portable Gas Grill. Chowhound