[clear]
[custom_frame_center]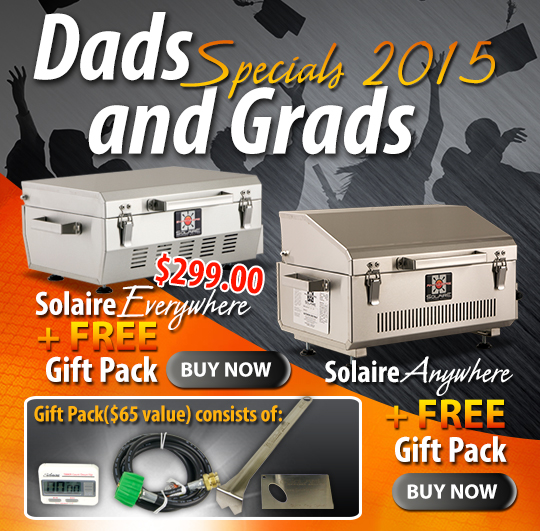 [/custom_frame_center]
Promotion ends June 21, 2015.
Orders must be placed by June 13, 2015 to receive grill by Father's Day.
[divider_top]
Learn more about the Solaire Anywhere & Everywhere Portable Grills
---
There are seven main differences between the Solaire Anywhere and the Everywhere portable grills.
The Anywhere (SOL-IR17B) weighs 20 lbs.: the Everywhere (SOL-EV17A) weights 15 lbs.
The Anywhere is made from thicker 20 gauge stainless steel; the Everywhere is made from thinner 24 gauge stainless steel.
The Anywhere has a larger appearance that the Everywhere. The Everywhere is about 4 inches shorter in height. The hood protects the burner during transport and storage.
Anywhere = 21″ W x 12″ H x 13″ D
Everywhere = 21″ W x 8″ H x 13″ D
The Anywhere includes the Carrying Bag. For the Everywhere it is not included but can be purchased separately.
The Price. The Everywhere costs about 25% less than the Anywhere.
The Everywhere & Anywhere share many of the same qualities and features:
14,000 BTUs of infrared power
Made from 304 commercial grade stainless steel
14″ x 10″ V-grate grilling surface
Same push button electronic ignition
The same great infrared grilling performance
Use with 1 lb. propane bottles. Use with 20 lb. L.P. tank with Tank/Hose Adapter (SOL-SAHOSE6); Use with natural gas with Natural Gas conversion Kit (SOL-SANGC).
Both use all of the various accessories (including tank adapter, portable stand, natural gas conversion, mount adapter plate, and grid scraper)
Made in the USA by a 100+ year old family business.
[divider_top]
The Advantages of Grilling with Infrared