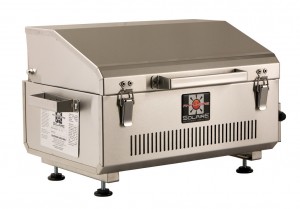 Prepare for the impulse gift purchase by displaying a stack of Solaire® Anywhere and/or Solaire® Everywhere Portable Infrared Grills near your checkout area. They make a fine gift, which you can communicate by placing a big red bow on one that's out of the box. These are a "cash and carry" item. Most consumers will not wait for you to order one for them, so be prepared by ordering in four to six grills now for the holiday season.
Solaire Portable Infrared Grills also make a great corporate gift, as it has usefulness as well as style. Perhaps a call to some of your local titans of industry might result in you solving their problem of trying to find something memorable for them to give to their top clients. This is discussed in the video below.
Place your order through your normal process (or Contact Us) and receive FREE Shipping on orders over $500.