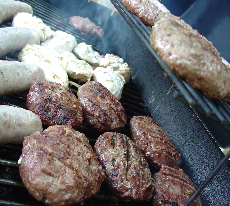 Outdoor activities are always opportunities for fun and merriment, especially for people who enjoy the open air. The occasion doesn't have to be grand, such as going camping or having a picnic. Having outdoor fun can be something as simple as a lunch or dinner with family and friends in the backyard.
Why not? Everyone knows that the kitchen and dining area is the heart of the home. This is the busiest part of the house, where household members and guests alike converge for hearty and lengthy conversations and exchange of ideas. The good news is that the central area of the home can be taken outside. By having modern built in grills in your backyard or patio, you can create another space—al fresco—where you can entertain visitors while preparing scrumptious meals.
For anybody who loves the outdoors and enjoys hosting parties, an outdoor kitchen is like manna from heaven. It gives you the opportunity to relish the open-air venue while doing your household duty. With such a relaxing setting, what more can you and your guests ask for?
Building an outdoor kitchen, though, is not an easy task for it requires a lot of elements. First, you must decide if you intend it to be just for family dining or for hosting parties as well? If you plan to host parties, you must also consider how frequent it will be? Answering such questions is important when choosing a built-in grill and the accessories and appliances that would go with it.
In fact, an outdoor kitchen can be customized to fit your need and preference. You can choose the type and size of the grills, side burners, rotisseries, doors, drawers, and even paper towel holders. Your dream outdoor kitchen can also be furnished with refrigeration units, plus other appliances and features for your convenience.
On the other hand, if you want to skip going through all the considerations mentioned above and make things simpler, you can have handy portable grills installed in your backyard by companies such as Rasmussen Iron Works, Inc. Whatever route you take, there's no doubt that once completed, you will enjoy having an al fresco lunch or dinner prepared in your outdoor kitchen.